SYNCHRONY EAS
Featuring the latest technology and the softest electrode arrays in the industry, SYNCHRONY EAS lets you hear the world in full colour.
The Full Spectrum of Sound
To hear your best with EAS, you need to have some natural hearing ability—even if it's only some sounds. Your natural hearing will help you to hear the low tones, giving you the full spectrum of sound.
A good quality EAS system should be designed to preserve your natural hearing. A poorly-designed implant could damage your ear, putting your natural hearing ability at risk. That's why it's important to choose an implant that is designed to protect your ear, so that you can maintain your natural hearing and experience sounds as they were meant to be heard.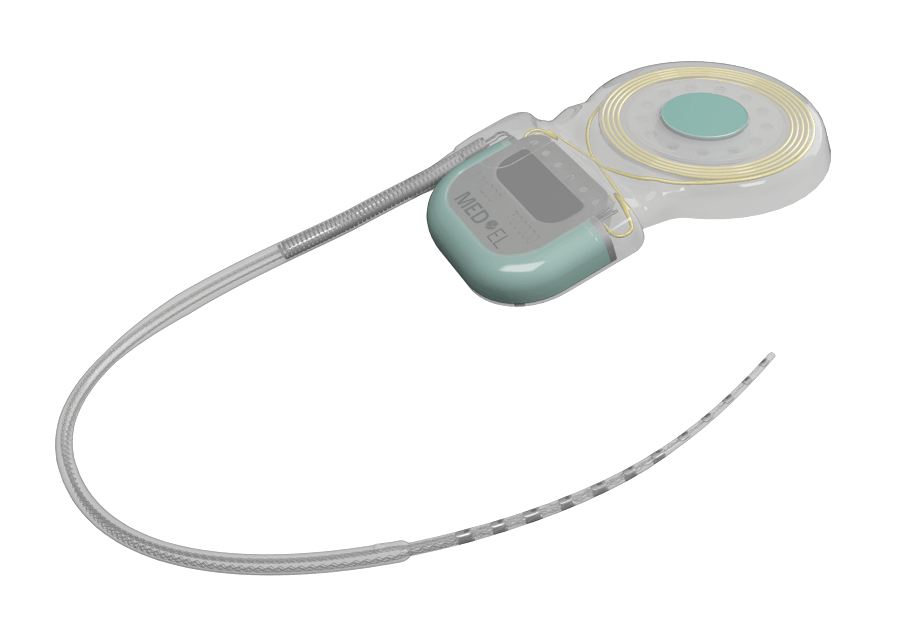 Why Choose SYNCHRONY EAS:
1
Soft Electrode Arrays
SYNCHRONY EAS uses the softest electrode arrays in the industry, to protect your remaining natural hearing and give you the full spectrum of sound.
2
Highest MRI Safety
With the highest MRI safety available, SYNCHRONY EAS is there with you no matter what life brings.
3
Lifetime Reliability
Using our decades of experience, SYNCHRONY EAS is built for long-term reliability, to bring you a lifetime of hearing.
4
Flexible Compatibility
Benefit from the latest technology. SYNCHRONY EAS is compatible with all our current EAS audio processors, giving you the flexibility to upgrade at any time.

Hear Naturally
SYNCHRONY EAS is built to protect your ear, particularly the delicate structures of your cochlea. This way, you can keep more of your natural hearing ability once you have your implant, giving you optimal sound quality.
But how does SYNCHRONY EAS protect your natural hearing? It's all to do with the electrode array, the long thin part of the implant which is inserted into your cochlea. SYNCHRONY EAS's electrode array is super soft and flexible—in fact it is the softest in the industry. Because of this, it can be inserted very gently into your cochlea, preserving your natural hearing ability, and helping you to hear your best.
easyMRI
No surgery
No discomfort
No hearing downtime
Easy MRI
Life has its unexpected bumps and falls, and most of us will have an MRI scan at some point in our lifetime. Thankfully, SYNCHRONY EAS has the highest MRI-safety available. Its specially-designed magnet can undergo even high-resolution MRIs at 3.0 Tesla, without having extra surgery to remove the magnet.
That means you won't have to have additional surgery just to get an MRI scan. There will be no hearing downtime—you can start hearing again straight after the scan. With SYNCHRONY EAS, you can have hassle-free and comfortable MRIs, knowing your implant will stay safe and sound.

Reliable Hearing
An EAS system should enable you to hear all day, every day, without any interruptions. Your implant should be of the highest quality, to give you reliable hearing for many years to come.
For this reason, we have spent decades developing the most reliable implants in the industry. Each MED-EL implant is handmade at our headquarters in Europe, to ensure it is of the high quality we expect. That way, you get the reliable hearing you expect.

Upgrade at Any Time
Your implant will be with you for many years, but that doesn't mean you can't benefit from the latest technology. With SYNCHRONY EAS, you can use any MED-EL EAS audio processor, so it's possible to upgrade at any time.
That means you can get the newest audio processor without having extra surgery to get a new implant. SYNCHRONY EAS is designed to ensure you hear your best now, and in the future.

Built For Everyday
Light and comfortable to wear, SONNET EAS is your ideal audio processor. Its water-resistant design makes it practical for every day, and there are plenty of ways to make your SONNET match your personal style.
What's more, with dual microphone technology, SONNET EAS gives you better sound quality than ever before.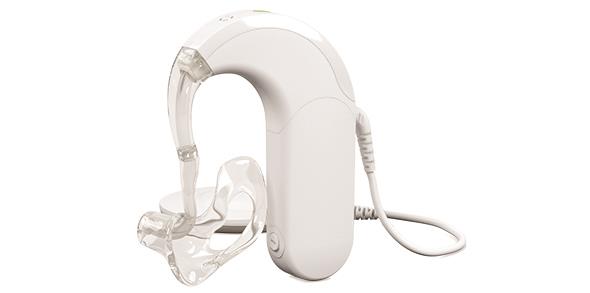 * Recipients with a SYNCHRONY EAS Cochlear Implant may be safely MRI scanned at 0.2, 1.0, 1.5, and 3.0 Tesla following the conditions detailed in the instructions for use.
Width: 25.4mm
Length: 45.7mm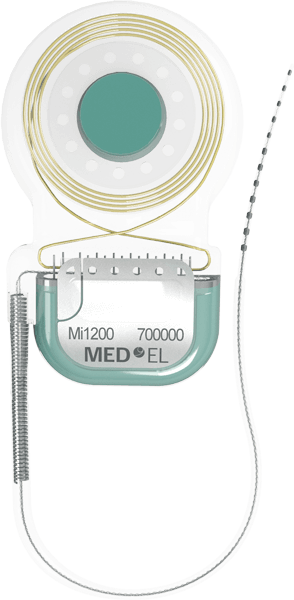 3.3mm
165°
4.5mm
⌀ 1.0mm
1.4mm

Get in Touch
Would you like more information on our hearing loss solutions? Just fill out our simple contact form and we'll get back to you.