Bone Conduction Implant
BONEBRIDGE gives you great hearing. And it's the most advanced active bone conduction implant. Because it's placed fully under the skin, you won't even realize it's there! Find out how BONEBRIDGE uses bone conduction to revolutionize your hearing.
Effective Bone Conduction Hearing
Since BONEBRIDGE is fully under the skin, it doesn't leave you with an open wound or skincare routines to worry about. The SAMBA 2 audio processor sits comfortably on your head and has a streamlined design that makes it easy to hide under your hair.
But most importantly, BONEBRIDGE offers you great sound quality. MED-EL has over ten years of experience pioneering and improving under-the-skin bone conduction implants. Thousands of happy users around the world rely on BONEBRIDGE's high-quality, comfortable hearing.
Natural sound quality

Placed fully under the skin

Small and stylish audio processor
---
Awarded 2019 to the BONEBRIDGE BCI 602 Bone Conduction Implant.
How Does BONEBRIDGE Work?
With normal hearing, sound vibrations travel through the outer and middle ear to the inner ear. If you have conductive or mixed hearing loss due to damage to either of these parts of the ear, sounds can't reach your inner ear effectively.
But BONEBRIDGE bypasses the damaged parts of the ear and sends sounds directly to the inner ear through the bones of your skull. If you have single-sided deafness, BONEBRIDGE can be used to pick up sounds on the side with hearing loss and send them through the inner ear on the other side.
The Perfect Match
We combine the most advanced bone conduction implant technology with a light-weight audio processor to give you high-quality, comfortable hearing.
SAMBA 2
Audio Processor

Lightest audio processor
Stylish design covers
Intelligent hearing technology
BONEBRIDGE
BCI 602 Implant

Natural sound quality

Placed fully under the skin
1.5 Tesla MRI without surgery*
A Stylish Bone Conduction Implant
BONEBRIDGE is an active bone conduction implant that is fully implanted under the skin. Simply put on your SAMBA 2 audio processor each morning and forget about it for the rest of the day. It is held in place comfortably behind your ear by a magnet. You can easily hide it under your hair. Or make your audio processor stand out with stylish design covers.
A Lifetime of Hearing
BONEBRIDGE's robust design is built to keep you hearing for many years to come. It can undergo MRI scans at 1.5 Tesla with no surgery,* no discomfort, and no hearing downtime.** And because of our long and positive experience with MRIs, we even offer a life-long MRI guarantee for your implant.***
Connect With a Real User
Our Hearpeers Mentors are implant recipients and parents of recipients from around the world. They are ready to answer your questions about life with a bone conduction implant.
Steps to Your Bone Conduction Implant
What can you expect next? Here's an outline of the process of receiving a bone conduction implant.
First, you'll undergo routine assessments to ensure you're a candidate for a bone conduction implant and find out whether there are any additional factors your implant team should consider. Your clinical team will walk you through the specifics of what to expect in the following steps.
BONEBRIDGE surgery is straightforward and usually lasts around one hour under general anesthesia. Recipients are usually back on their feet the next day. Your hospital stay may last one or more days depending on your individual needs and what's typical in your area.
Your first fitting is usually one to two weeks after implantation. This "activation day" is when your audiologist will turn on your audio processor for the first time and you'll hear your first new sounds. The audio settings of your processor will be adjusted to fit your hearing preferences.
Start Your Hearing Journey
Are you interested in finding out more about how MED-EL's hearing solutions could help you or someone you care for? Simply fill out the contact form and we will provide you with further information.
24.4 mm
⌀ 28.2 mm
4.1 mm
4.5 mm
4.4 mm
64.3 mm
18.2 mm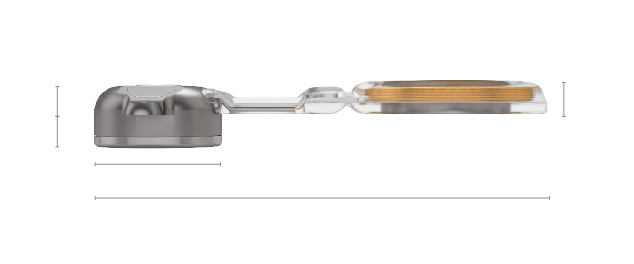 BCI 602 Implant
Implant Kit Contents
1 BCI 602 Bone Conduction Implant
3 Cortical Screws (Osseointegration of the screws is not required):

2 Self-Drilling Standard Screws 1.6 x 5 mm (silver)
1 Emergency Screw 1.9 x 5 mm (blue)

1 Surgical Screwdriver SD 2 (single-use)
Weight
Approx. 20 g
Materials in Contact With Tissue
Implant: Medical grade silicone elastomer, titanium grade 5 ELI (in accordance with ASTM F 136-12)
Screws: Titanium alloy Ti6Al7Nb
Screwdriver
Polyoxymethylene (POM), martensitic stainless steel (1.4197)
MRI Conditions
MR-conditional at 1.5 Tesla**
Maximum Diving Depth
50 m in salt water (6 bar)
Biocompatible according to ISO 10993-1
Latex-free****
Delivered sterile
---
* Unless required for diagnostic reasons.
** The BONEBRIDGE bone conduction implant is MR conditional. Recipients with BONEBRIDGE may be safely MRI scanned at 1.5 Tesla following the conditions detailed in the instructions for use.
*** The terms and conditions of the MRI Guarantee can be found here.
**** Whereby "free" means "not made with latex" according to current FDA guidance.