Harness the Power
Of Wireless Connectivity
The introduction of wireless connectivity has allowed our cochlear implant recipients to enjoy greater access to sound, communication, information and entertainment. MED-EL technology offers multiple solutions for better hearing in almost any listening scenario:
Digital Wireless Streaming brings high-quality, direct audio streaming straight to cochlear implant processors.
Bluetooth Connectivity allows the synchronization of bluetooth devices – a tablet or smartphone – with your MED-EL processor through a intermediary transmitter like a Roger Pen.
State-of-the-Art Telecoil is integrated in all MED-EL processors and provides wireless connectivity at the touch of a button. Telecoil can be used in venues or homes with induction loop systems, or via personal accessories like neckloops.
Digital Wireless Streaming
Whether you are in a classroom, business meeting, or noisy restaurant, a digital wireless system provides a great solution for listening and understanding.
This wireless technology streams sound right to your ears through a remote microphone and a compact receiver that connects to your SONNET Audio Processor.
Roger Pen and Roger 21
from PHONAK are offered with the MED-EL patient kits!
Wireless – Bluetooth – Multi-Connectivity
Roger Pen
This sleek wireless microphone helps deliver speech understanding in noise and over distance. Together with the Roger 21 receiver, it features adaptive wireless transmission, fully automated settings, wideband audio Bluetooth for cell phone use, TV connectivity and an audio input for multimedia use.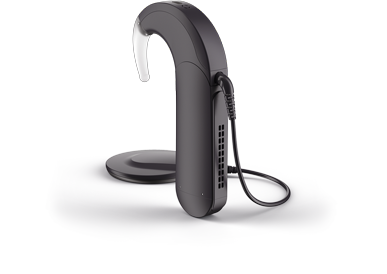 Roger 21
The ROGER 21 attaches seamlessly to SONNET and features an integrated receiver. When paired with the Roger Pen (or other Roger-compatible microphones), it sends sound directly into the audio processor.
Wireless connectivity isn't just for entertainment. It's also a very productive and effective tool for the workplace and beyond.
Connection with Bluetooth
MED-EL's wireless technology is extremely flexible and can be paired with most Bluetooth devices. Devices like the Roger Pen offer powerful and versatile solutions for MED-EL cochlear implant recipients.
Never Miss Another Punchline
Family time is precious, so stay connected and enjoy every second of it. Whether it's dinner at your favorite restaurant or a movie night at home, a digital wireless system will keep you laughing with your loved ones.
Experience clear audio streaming from your television or home theater system via the remote mic, a QLink, or compatible Bluetooth transmitters.
Connect wirelessly to your phone to have hands-free conversations.
Enjoy wireless audio from streaming movies, video games, or online chats with a friend on a computer or tablet.
Use a remote mic to hear dinner conversations at large family gatherings.
State-of-the-Art Telecoil
Connect to sound at the touch of a button.
Your audio processor has built-in telecoil technology that lets you wirelessly connect to telecoil induction systems like hearing loops and personal neckloops. Hearing loops are common in public spaces and are easily accessed with the telecoil setting on your FineTuner Remote Control.