SYNCHRONY 2 Cochlear Implant
If you're looking for the ideal cochlear implant, look no further than SYNCHRONY 2. Not only is it packed full of the latest hearing technology, it's also designed with the safety and reliability to give you years of hearing enjoyment.
---
It's gratifying to be recognized for our pioneering spirit and dedication to fulfilling our mission." – Raymond Gamble, President & CEO, MED-EL North America.
Learn more about this award here.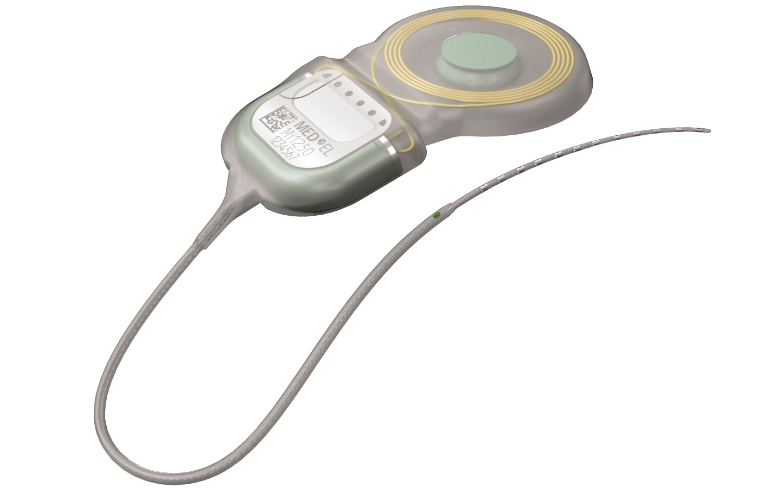 1
Great Sound Quality
SYNCHRONY 2 is designed for optimal sound quality, helping you to hear the world as it was meant to sound.
2
Ideal Electrode
MED-EL's wide range of electrode arrays means that you get the ideal fit for your individual cochlea.
3
Simple Surgery
MED-EL implants are designed for simple surgery, helping you to get back on your feet afterwards.
4
easyMRI
Experience hassle-free MRIs with SYNCHRONY 2—no surgery, no discomfort, and no hearing downtime.*
5
Reliable Design
SYNCHRONY 2's safe and reliable design means you can benefit from years of great hearing.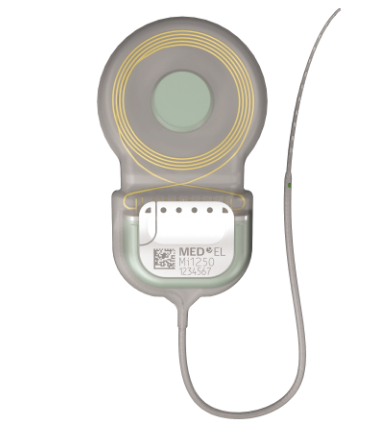 An Important Decision
It's important to choose the right audio processor, but it's even more important to choose the right implant. Why? Because it's the implant that most influences how well you hear.
SYNCHRONY 2 uses advanced coding strategies, designed to give you natural sound quality. This helps you to hear the high and low tones, and the fine details of both everyday conversations and your favorite songs. What's more, MED-EL cochlear implants are the only implants that offer this kind of technology.**


The Right Fit
You'd never wear shoes that didn't fit your feet, so why choose a cochlear implant that doesn't fit your ear? SYNCHRONY 2 is an individualized cochlear implant—that means it has an electrode array that is the ideal fit for your individual cochlea. With the right electrode array, you can make the most of your cochlear implant and experience the best hearing you possibly can.

An Easy Surgery
It's a fact that all cochlear implants need to be surgically implanted. Thankfully, our SYNCHRONY implants*** are not only the smallest and lightest titanium implants available but have also been designed to make your surgery as simple as possible. After the surgery, you can start enjoying the next stage of your hearing journey.
Made For MRI
Most of us will need an MRI at some point in our lives.
SYNCHRONY 2's revolutionary magnet means you can have MRIs of 1.5 and 3.0 Tesla without magnet removal surgery. That's why SYNCHRONY 2 gets the easyMRI seal of approval.

Your MRI Safety Is Our Guarantee
At MED-EL we don't just offer you the highest MRI safety. We even guarantee that your cochlear implant won't be damaged during an MRI scan.
This life-long MRI safety guarantee is the first and only to be offered by any hearing implant company and covers all MED-EL cochlear implants from as far back as 1994. So if you need to have an MRI now or in the future, you can rest assured that your SYNCHRONY 2 implant will be safe.
The Reliable Choice
You will have your cochlear implant for many years to come, so it's important that your implant is reliable enough to give you years of use.
SYNCHRONY 2 has been designed based on decades of MED-EL experience. Every part has been fine-tuned for maximum reliability and safety. From high-tech materials to a first-class quality inspection at our European headquarters, each SYNCHRONY 2 is built to provide you with years of reliable hearing.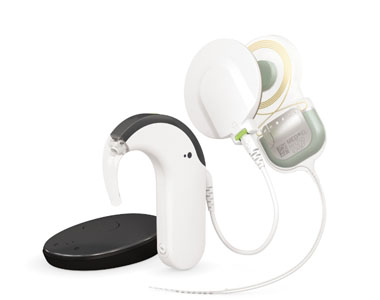 Our Audio Processors
Once you've decided on your SYNCHRONY 2 cochlear implant, it's time to choose an audio processor to match. SYNCHRONY 2 is built to be compatible with all available MED-EL cochlear implant audio processors, so you can choose the right option for your lifestyle.
And if you change your mind in the future? Then you can upgrade your processor and benefit from the latest in hearing technology.
SONNET 2

RONDO 3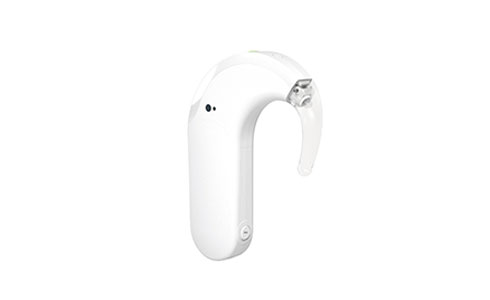 SONNET 2
SONNET 2 isn't just our lightest audio processor—it's also the smartest. Find out what makes SONNET 2 MED-EL's most advanced audio processor.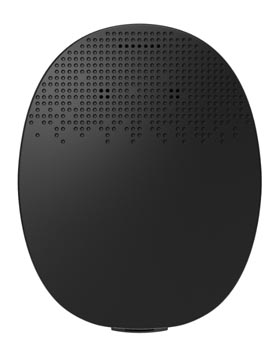 RONDO 3
The RONDO 3 audio processor makes hearing incredibly simple. With wireless streaming, wireless charging and superior hearing performance, RONDO 3 gives you simple hearing for all day—every day. It's simply incredible.
Width: 24mm
Length: 47.3mm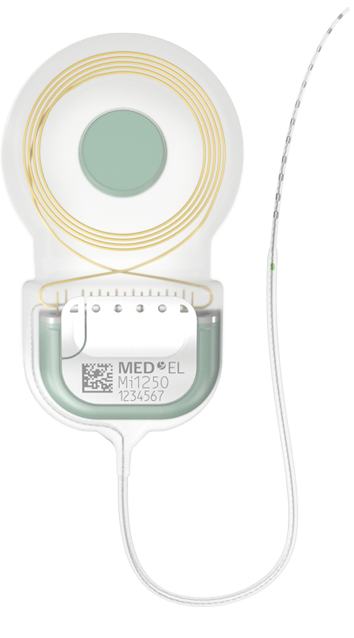 3.3mm
4.5mm
1.4mm

SYNCHRONY 2 Pin
Cochlear Implant (Mi1250)
Stimulation Features
Sequential non-overlapping stimulation on 12 electrode channels
Simultaneous (parallel) stimulation on 2 electrode channels (FS4-p)
24 independent current sources
Stimulation rates of up to 50,704 pulses per second
Range of pulse phase duration: 2.1–425.0 μs/phase
Interphase gaps of 2.1, 10, 20 and 30μs
Time resolution (nominal values): 1.67 μs
Current range (nominal value): 0–1200 μA per pulse phase
Pulse Shapes
Biphasic, symmetric triphasic, and triphasic precision pulses
Comprehensive Diagnostic Toolkit
Status Telemetry
Impedance and Field Telemetry (IFT)
Auditory Nerve Response Telemetry (ART™)
Electrically Evoked Auditory Brainstem Response (EABR)
Electrically Evoked Stapedius Reflex Threshold (ESRT)
Housing Design
Impact resistance up to 2.5 Joule
Unique PIN variant with fixation pins for additional stability
Hermetically sealed titanium housing
Stimulator: 18.8 mm x 24 mm x 4.5 mm
Coil: 29.0 mm diameter x 3.3 mm thick (typical)
Weight: 7.7 g
Safety Features
Independent safety capacitors for each electrode channel
Unique Implant ID (IRIS)
Biocompatibility standard according to ISO 10993-1
Latex-free****
MRI Conditions*
MR Conditional at 1.5 and 3.0 Tesla
No magnet removal required even at 3.0 Tesla
Removable Magnet
Magnet removable for minimized image distortion
Rotatable magnet within hermetic titanium housing
Self-aligning to external magnetic field
Conical shape for secure placement
FLEX Series
The softest and most flexible electrode arrays, designed for Structure Preservation and Complete Cochlear Coverage. Featuring 19 platinum electrode contacts and FLEXtip technology for atraumatic insertion. All FLEX series electrodes feature a green orientation marker for improved visibility and positioning during insertion.
FLEX SOFT
26.4 mm stimulation range
Diameter at basal end: 1.3 mm
Dimensions at apical end: 0.5 x 0.4 mm
FLEX 28
23.1 mm stimulation range
Diameter at basal end: 0.8 mm
Dimensions at apical end: 0.5 x 0.4 mm
FLEX 26
20.9 mm stimulation range
Diameter at basal end: 0.8 mm
Dimensions at apical end: 0.5 x 0.3 mm
FLEX 24
20.9 mm stimulation range
Diameter at basal end: 0.8 mm
Dimensions at apical end: 0.5 x 0.3 mm
FLEX 20
15.4 mm stimulation range
Diameter at basal end: 0.8 mm
Dimensions at apical end: 0.5 x 0.3 mm
Classic Series
Features 24 platinum electrode contacts.
STANDARD
26.4 mm stimulation range
Diameter at basal end: 1.3 mm
Diameter at apical end: 0.5 mm
MEDIUM
20.9 mm stimulation range
Diameter at basal end: 0.8 mm
Diameter at apical end: 0.5 mm
COMPRESSED
12.1 mm stimulation range
Diameter at basal end: 0.7 mm
Diameter at apical end: 0.5 mm
MIA
MED-EL Virtual Assistant
*It has been demonstrated that no known hazards exist in specified MRI environments under conditions as described in the SYNCHRONY 2 Cochlear Implant product labelling. Recipients with a SYNCHRONY 2 Cochlear Implant may be safely MRI scanned at 1.5 and 3.0 Tesla following the conditions detailed in the instructions for use.
**Fine-structure coding is not indicated for pre-lingual children in the USA.
***MED-EL's SYNCHRONY implants include SYNCHRONY, SYNCHRONY PIN, SYNCHRONY 2, and SYNCHRONY 2 PIN.
**** Whereby "free" means "not made with latex" according to current FDA guidance.
Get in Touch
Would you like more information on our hearing loss solutions? Just fill out our simple contact form and we'll get back to you.