Connectivity
Connect easily to your phone, enjoy watching TV, and hear clearly in busy settings—all with our easy-to-use connectivity options.
Easy Listening, Wherever You Are
Sometimes it's hard to hear your best. Hearing your phone or TV clearly can be a challenge, as can understanding your friends in a busy restaurant. All our audio processors are specially designed to connect easily to phones, tablets, microphones, and other audio devices. This brings the sound straight to your ears and boosts your hearing when you need it most.
On this page you'll find an overview of the many ways to connect. For more information about the options for your specific audio processor, simply click on the processor image at the end of each section.
Easy Connectivity
Connect to your phone, stream sound from your TV, or hear the family clearly at dinner—find out how AudioLink can give you great hearing with all your devices.
On the Phone
Take that call, wherever you are. It's easy to connect to your phone with Bluetooth connectivity devices, which work with any Bluetooth-enabled phone, including iPhone and Android. These options are also great for hands-free calling, making it easy to talk on the go.

Watching TV
Never miss your favorite show. Use a wireless TV streamer to send the sound from the TV straight to your audio processor—ideal for hearing across a noisy living room. There are also other options available for watching shows on your computer or tablet or turn your home into your very own cinema.
Listening to Music
Get the most from your music. There are plenty of connectivity devices which wirelessly stream music to your audio processor, without a cable in sight. Noise-cancelling headphones are also great for listening to music and can be easily placed over behind-the-ear processors like SONNET 2.

Public Venues
Hear more clearly when you're out and about. Cinemas, theaters, museums, places of worship, and many other public venues often have hearing loops installed. Most audio processors connect seamlessly to hearing loops at the press of a button, helping you to catch every word.

At Work or School
Hear the person who's speaking—not the rest of the room. Wireless microphones make it much easier to hear a teacher or speaker over a crowded room. There are also microphones designed for small group settings, such as meetings. These microphones are simple to connect to your audio processor and make it much easier to hear in the classroom or at work.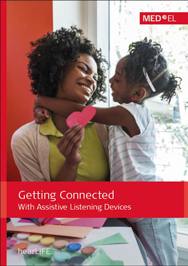 Getting Connected
Our easy-to-use guide shows all the connectivity options available and how best to use them.
Download Now
Get in Touch
Would you like more information on our hearing loss solutions? Just fill out our simple contact form and we'll get back to you.