RONDO 3
CI Audio Processor
These support guides will help you handle and care for the RONDO 3 Audio Processor.
Using the Telecoil Adapter
RONDO 3's telecoil adapter is a plug-in device that allows you use hearing loops in public venues as well as telecoil-enabled phones.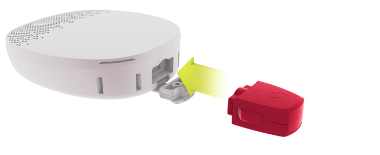 Remove the audio processor from your head.
Open the rubber socket cover.
Plug the telecoil adapter into the socket. RONDO 3 will now automatically pick up the signal from the hearing loop or neckloop.
To deactivate the telecoil function, remove the telecoil adapter from the audio processor.
Refer to your user manual for more information.