Electric Acoustic Stimulation
SYNCHRONY EAS Hearing Implant System
What is EAS?
Are certain sounds easier to hear than others? Can you hear male voices, but struggle to hear female voices? Do you feel that your hearing aids are just not good enough?
If this sounds familiar, you may be missing out on hearing high-frequency sounds. When you cannot hear high-frequency sounds, you might have a type of hearing loss known as Partial Deafness.
EAS is the combination of two technologies: a cochlear implant for the high frequencies, and acoustic amplification for the low frequencies. Together, they cover the full range of hearing.
Hear the Whole World of Sound
Restore Your High-Frequency Sound Perception
Restore Your Hearing Potential
EAS candidates,18 years and over are those who have hearing loss that falls within the shaded area on the audiogram above, with normal to moderate sensorineural hearing loss in the low frequencies, sloping to severe-to-profound hearing loss in the high frequencies. Pre-operative scores for speech understanding for single words in quiet is 60% or less.
EAS can help you to hear both low and high frequencies of sound.
Together, these technologies combine and can help you to hear all the sounds of speech.
Hear Better with EAS
Switching from hearing aids to EAS has proven benefits. A multi-center US clinical trial demonstrated significant improvement for adults with Partial Deafness after switching from hearing aids to EAS.
The graph shows the results of post-operative sentence testing in background noise, one of the most difficult environments for people with this type of hearing loss. EAS users score an average of 42 percentage points higher in speech understanding. In addition, 90% of EAS recipients reported increased satisfaction with EAS compared to their hearing aids.1
With EAS, recipients are 11 times more likely to use the acoustic component after surgery.1
With EAS, recipients are 4 times more likely to maintain residual hearing after surgery.1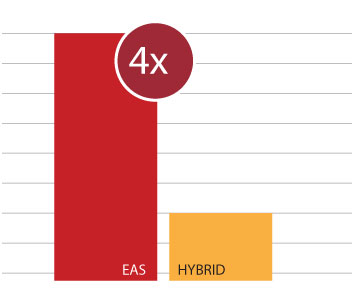 1. IDE G040002 Final Report "Electric-Acoustic Systems Clinical Trial"
Other resources: FDA Panel Meeting, Octiber 2013: http://www.fda.gov/downloads/AdvisoryCommittees/CommitteesMeetingMaterials/MedicalDevices/MedicalDevicesAdvisoryComittee/EarNoseandThroatDevicePanel/UCM375000.pdf Roland, J. T., Gantz, B. J., Waltzman, S. B., Parkinson, A. J. and The Multicenter Clinical Trial Group (2016), United States multicenter clinical trial of the cochlear nucleus hybrid implant system. The Laryngoscope, 126: 175–181
SONNET EAS
Behind-the-Ear Audio Processor
The SONNET EAS is the 3rd generation Electric Acoustic Stimulation (EAS) Audio Processor from MED-EL, the pioneer of combined Electric Acoustic Stimulation. SONNET EAS combines the SONNET audio processor with an acoustic unit and customized ear mold to provide dedicated acoustic stimulation across the low frequencies and electric stimulation in the high frequencies. With 48dB acoustic amplification across the low frequencies, SONNET EAS is an ideal solution for candidates with partial deafness.
The water-resistant and lightweight SONNET EAS is designed for all-day comfort and security.
More about the SONNET EAS
SYNCHRONY Cochlear Implant
MRI Safe at 3.0 Tesla—Without Magnet Removal
With the SYNCHRONY implant, you'll have the peace of mind knowing you've chosen the only implant that delivers exceptional hearing performance, outstanding reliability, and unmatched MRI safety.
With soft, flexible electrodes, SYNCHRONY is the ideal choice for EAS.
Watch the video
More about MED-EL's unique electrode design
1. Unparalleled
MRI Safety
The self-aligning implant magnet provides unmatched comfort, security, and peace of mind during an MRI scan.
2. Smallest
Titanium Implant
The smallest and lightest titanium cochlear implant available—making it the ideal choice, even for the youngest candidates.
3. Proven
Stability
Small titanium fixation pins secure the implant in place, ensuring stability for long-term safety and reliability.
4. Flexible
Electrodes
MED-EL offers the widest selection of soft, flexible electrodes to ensure the optimal solution can be chosen for every candidate.
Receiving SYNCHRONY EAS
Take the Next Step
The SYNCHRONY EAS Hearing Implant System is specially designed for individuals 18 years and over with partial deafness. Partial deafness is normal to moderate low-frequency sensorineural hearing loss combined with severe-to-profound hearing loss in the higher frequencies.
Evaluation
Candidates for an EAS Hearing Implant System undergo audiological tests and medical examinations to determine whether EAS is a suitable treatment for them. The audiological tests assess the degree of hearing loss both in low and in high frequencies.
Implantation
The SYNCHRONY Cochlear Implant, the internal part of the SYNCHRONY EAS System, is implanted under the skin behind the ear. The surgery is a routine procedure for experienced ENT surgeons and usually takes one to three hours. Your surgeon will advise you concerning any additional details of the surgery.
Activation of the EAS
Between two and six weeks following implantation, both the electric stimulation and the acoustic amplification of the EAS Hearing Implant System are activated. An initial period of adaptation to the combined stimulation is common and should be expected.
Use our clinic finder to find a cochlear implant center near you.
Find your local area MED-EL representative for more information.