Cochlear Implants
It's What's Inside That Counts
A cochlear implant (CI) system helps to restore the sense of hearing for individuals with severe-to-profound sensorineural hearing loss. For individuals with this type of hearing loss, hearing aids provide little or no benefit.
A CI is the only medical device capable of replacing a sense. It works by bypassing non-functioning parts of the inner ear and providing electrical stimulation directly to nerve fibers in the cochlea. A CI system consists of two parts: an externally worn audio processor, which sits comfortably behind or off the ear, and an internal cochlear implant, which is surgically placed just under the skin.
Watch how a cochlear implant works
SONNET
Behind-the-Ear Audio Processor
Microphone Directionality
Wind Noise Reduction
Water-Resistant Design
With dual microphone technology, SONNET features Automatic Sound Management 2.0 for hands-free control and effortless listening wherever you go. The water-resistant, lightweight, and tamper-proof SONNET is the ideal choice for both children and adults.
More about SONNET Watch the video
RONDO
Single-Unit Audio Processor
Compact all-in-one design
Comfortable and discreet
Waterproof with WaterWear accessory
RONDO combines the control unit, battery pack, and coil into a compact and convenient single-unit processor. RONDO is worn off the ear, so it is especially comfortable for individuals who wear glasses. With the WaterWear accessory, RONDO is waterproof and ready to go anywhere.
More about RONDO
Discover WaterWear
SYNCHRONY Cochlear Implant
3.0 Tesla MRI—Without Magnet Removal
With the SYNCHRONY implant, you'll have the peace of mind knowing you've chosen the only implant that delivers exceptional hearing performance, outstanding reliability, and unmatched MRI safety.
Watch the video
More about MED-EL's unique electrode design
1. Unparalleled
MRI Safety*
The self-aligning implant magnet provides unmatched comfort, security, and peace of mind during an MRI scan.
2. Smallest
Titanium Implant
The smallest and lightest titanium cochlear implant available—making it the ideal choice, even for the youngest candidates.
3. Proven
Stability
Small titanium fixation pins secure the implant in place, ensuring stability for long-term safety and reliability.
4. Flexible
Electrodes
MED-EL offers the widest selection of soft, flexible electrodes to ensure the optimal solution can be chosen for every candidate.
* Patients with a SYNCHRONY Cochlear Implant may be safely scanned with 1.5T and 3.0T MRI under the conditions detailed in the instructions for use.
Powered by Triformance
Experience the fullest, richest range of sounds, perceive speech and music more naturally, and protect your hearing—all with Triformance.
To give you the most natural hearing possible, MED-EL cochlear implants are powered by Triformance, the combination of three key technologies: Complete Cochlear Coverage, FineHearing, and Structure Preservation.
FineHearing™*
Can you hear the bass? Only our unique FineHearing sound coding technology gives you a richer perception of sound by including deep bass tones. With our FineHearing technology, SONNET provides a fuller, more natural perception of speech and music, especially with low-pitched bass sounds.
Structure Preservation
Our incredibly soft, flexible electrodes are designed to protect the delicate nerve cells of your inner ear. Protecting your cochlea enables your implant to deliver the best benefit, both now and in the future.
Complete Cochlear Coverage
To hear the most natural range of sounds, you'll need an implant electrode that's long enough to cover the whole cochlea. We offer the longest, most flexible electrodes available, making our electrodes the only choice for Complete Cochlear Coverage.
* Fine-structure coding is not indicated for pre-lingual children in the USA.
Sync With All Your Devices
With flexible connectivity options, both SONNET and RONDO can connect to nearly any external audio source or Assistive Listening Device (ALD), including neckloops and hearing induction loops. With the RogerTM 21 from Phonak*, SONNET can connect to a range of Roger wireless microphones.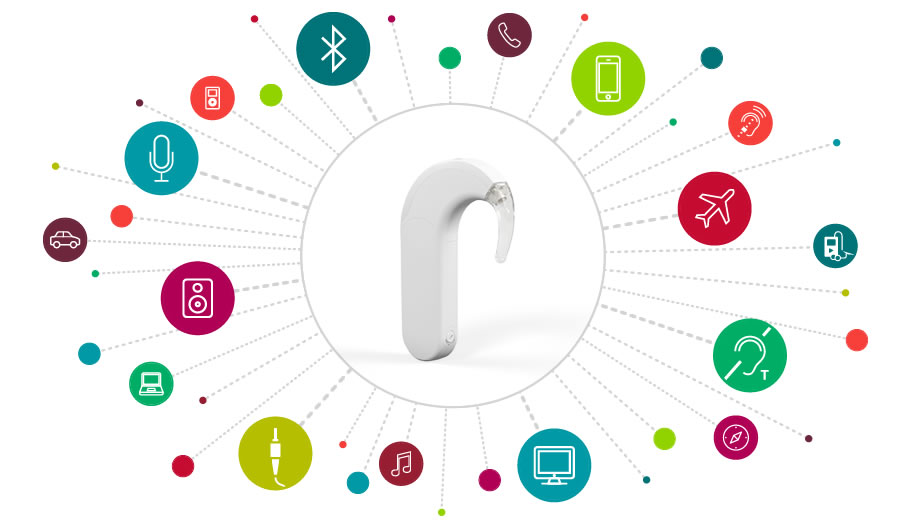 * Roger™ is a trademark of Phonak
Watch these videos to learn more
How a CI Works
Electrode Insertion
Don - CI Recipient
Sahib - CI Recipient
Jean - CI Recipient
Isla - CI Recipient
Take the Next Step
If you would like to learn more about receiving a cochlear implant, you can read the four steps of receiving a cochlear implant . To be referred to a cochlear implant center, or for more information about cochlear implant systems from MED-EL, please contact us directly.
Use our clinic finder to find a cochlear implant center near you.
Find your local area MED-EL representative for more information.
Receiving a cochlear implant
1

Assessment

In order to determine candidacy for a cochlear implant, you will undergo a number of routine assessments prior to implantation. These tests allow the cochlear implant team to check for any additional factors or needs. Assessment will also allow professionals to adequately brief you in order to know what to expect. These assessments often include medical, audiological (hearing) and radiological (X-ray) evaluations.
2

Implantation

The surgical procedure usually takes between one and three hours and is done under general anesthesia. The risks involved in cochlear implant surgery comparable to those of other ear surgeries. Patients are usually "up and about" the next day. The hospital stay can vary from one to several days depending on individual needs and what is typical in your area.
3

First Fitting

About four weeks after implantation, you will receive your audio processor. The audio processor is programmed, or "fitted," for each person individually by an audiologist. This program contains settings for pitch, loudness and timing. Setting up an ideal program for the first time often requires repeated fitting sessions in order to gradually fine-tune the settings.
4

Follow-up Program

Regular communication training with a speech-language professional is an essential element in learning how to understand sounds and in developing listening and speech skills. Auditory therapy may focus on helping you to recognize the new, more detailed way that things sound as opposed to the limited sound you may have known with hearing aids.