SONNET 2 EAS Audio Processor
Don't fit your life around an audio processor—choose a processor that fits your life! SONNET 2 EAS is the audio processor made for you. Choose how you'd like it to look. Choose how you'd like to connect to your phone and other devices. And choose to experience your best hearing, wherever you are.

Easy Listening
SONNET 2 EAS is built to give you your best hearing possible. Using a combination of both cochlear implant and hearing aid technology, SONNET 2 EAS makes the most of your unique natural hearing, so you can hear things as they were meant to sound. What's more, with ASM 3.0 technology and FineHearing sound coding, SONNET 2 EAS makes sure you hear your best wherever you are.
Adaptive Intelligence
SONNET 2 EAS recognises what kind of environment you're in, and automatically adjusts settings to match. Best of all, you won't even realise it's happening.
Noise Reduction
From background noise in a café, to an unexpected dog bark, SONNET 2 EAS minimises unnecessary noise, and so you can have the confidence to chat in any environment.
FineHearing
Hear the details with FineHearing sound coding technology. FineHearing lets you hear the world as it was meant to sound—from your favourite song to the voice of a loved one.

Connect to Your Devices
Use the phone you like, and connect it to the audio processor you love. Just slide the AudioStream cover onto your SONNET 2 EAS to stream music and phone calls directly to your audio processor. Or use AudioLink—a universal connectivity device that allows you to stream sound from phones, tablets, TVs, and much more. AudioLink can connect to anything that has Bluetooth® or a headphone jack, including that old record player in the attic!


Be In Control
Gone are the days of carrying around a remote control. With the new AudioKey 2 app, you can change settings on your SONNET 2 EAS directly from your phone. Volume, mic sensitivity, program selection—all at the press of a button.
What's more, AudioKey 2 also lets you see your individual hearing stats, such as how long you wear your SONNET 2 EAS each day. And if you unexpectedly lose your processor, the "Find My Processor" function shows where you last used the app with your audio processor, so you can retrace your steps.
AudioKey is available in areas where AudioKey 2 is not. Please contact your local MED-EL representative for more information.

Complete Your Look
Choose the colours that suit you. SONNET 2 EAS offers thousands of colour combinations, so you can easily personalize it to match your style. And if you really want to show off your audio processor, there are plenty of funky Design Covers that do just that!
Visit the SONNET Series Colour Configurator, and start designing your personal SONNET 2 EAS.

Make A Splash
Whether relaxing on the beach, or diving into the pool—enjoy great hearing in the water with WaterWear. These reusable covers make SONNET 2 EAS completely waterproof, so you can enjoy all the sounds of the sea without the hassle.
And for everyday, SONNET 2 EAS's superior water-resistant design protects it from rain, splashes, and sweat. That means you can go for a run in the rain, and not think twice about your audio processor!

For Kids
Compact, durable, and with a range of in-built safety features—SONNET 2 EAS is the ideal choice for your child. Find out how SONNET 2 EAS can help your child to hear their best.
Tamperproof Design

Audio Processor Check

Wearing Options

Fixation Options

Small Size

AudioKey 2 App
Tamperproof Design
SONNET 2 EAS is tough enough for even the most curious toddlers. Both the audio processor and the coil are fully lockable, keeping them safely in one piece, and are optimally sized so they can't be swallowed by children.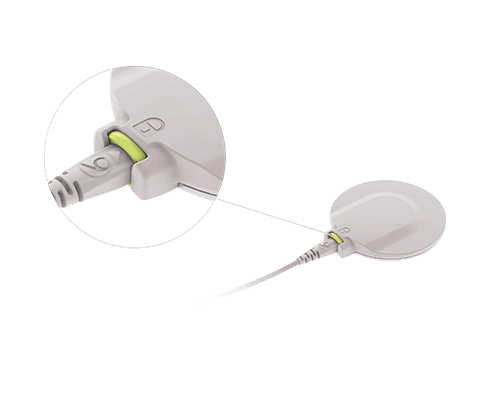 Audio Processor Check
Check your child's audio processors are working correctly. The link-check function lets you see at a glance if your child's SONNET 2 is attached to the coil correctly. And you can check if their microphones are working properly using the FineTuner Echo Remote Control.
Wearing Options
SONNET 2 EAS's wearing options make it lighter to wear for little ears. BabyWear and ActiveWear allow you to attach some or all of the audio processor to your child's clothes, so that they can enjoy comfortable hearing all day long.
Fixation Options
Keeping audio processors on your child can be a challenge! With a wide range of convenient fixation options, your child can wear SONNET 2 EAS all day long.
Small Size
Choose the Micro Rechargeable Battery for your child's SONNET 2 EAS, and give them one of the smallest and lightest audio processors available.
AudioKey 2 App
The AudioKey 2 app contains a special "Guardian Role" feature, so you can control your child's audio processors from your phone. In addition, you can check their hearing stats and make sure they are getting the most from SONNET 2 EAS.

Long-Lasting Power
SONNET 2's powerful batteries mean you can go for days at a time. Choose regular zinc-air disposable batteries for the longest wearing time. Alternatively, the rechargeable batteries are a convenient way to keep SONNET 2 powered up throughout the day.
Disposable Batteries

Rechargeable Batteries
Disposable Batteries
Use two disposable zinc-air batteries with your SONNET 2 EAS for maximum battery life.
Up to 60 hours of power from two size 675 zinc-air batteries.
Up to 10 hours of waterproof hearing with WaterWear and two silver-oxide batteries.
Rechargeable Batteries
SONNET 2 EAS's handy rechargeable batteries can be worn during the day, and then charged overnight. They come in two different sizes: Standard and Micro.
Up to 10 hours of power with the Standard Rechargeable Battery.
Up to 7 hours of power with the Micro Rechargeable Battery.
Both options are ideal for using with WaterWear.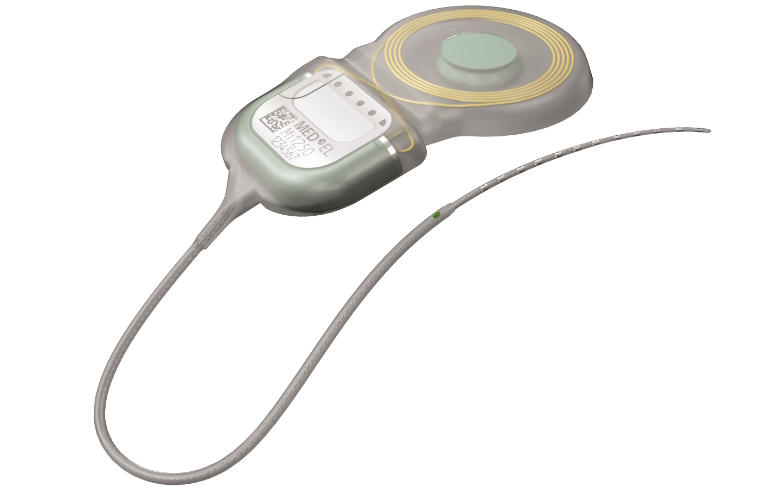 SYNCHRONY 2 for EAS
Great sound quality is only possible with a great implant. With SYNCHRONY 2 you can benefit from the latest EAS technology, plus the highest MRI safety available.

But the biggest advantage of SYNCHRONY 2 lies in its super soft electrodes. Find out about MED-EL's electrodes, and how they help you make the most of your hearing.

Discover More
Width: 37.4mm
Height: 56.7mm with Battery Pack Cover Standard
Height: 51.4mm with Battery Pack Cover Micro
Thickness: 5.9mm
Thickness: 9.3mm
SONNET 2 EAS
Audio Processor
(Me1520)
Weight and Dimensions
6.1 g (with ActiveWear)
8.1 g (with Rechargeable Battery Micro)
11.0 g (with two 675 zinc-air batteries)
DL-Coil: 4.6 g, 32.8 mm x 5.8 mm
DL-Coil: 5 magnets available in 9 strengths
Durable coil cables available in 3 lengths:

6.5 cm (2.6 in)
9 cm (3.5 in)
28 cm (11.0 in)
Material
Processor & Coil: Mixture of polycarbonate and acrylonitrile-butadiene-styrol polymer
Earhook: Polyamide (PA)
Cable: PVC and TPE Evoprene
Compatibility
Backwards compatible with all MED-EL multichannel cochlear implants.
MAX Programming Interface
MAESTRO System Software 8.0 and later
Product Features
Frequency Range 70–9300 Hz
Splashproof design with IP54 rating
Dual microphones
Extended Datalogging
Automatic Sound Management 3.0
Tamperproof design

Secured earhook
Locking battery pack
Choking hazard avoidance
Attachment security measures
Locking coil cable (locked to coil and control unit)

Link-check coil function with LED indicator
Four program positions
Continuous volume and sensitivity control with FineTuner Echo or AudioKey
Supports Electric-Acoustic Stimulation (EAS)
Sound Processing Features
Front-End Processing
Microphone Directionality (Omni, Natural, Adaptive)
Automatic Volume Control with Dual-Loop AGC
Wind Noise Reduction
Ambient Noise Reduction
Transient Noise Reduction
Input Dynamic Range (IDR) of 78 dB (28–106 dB SPL)
Coding Strategies
FS4 (Fine Structure Processing up to 1 kHz on 4 apical channels)
FS4-p (Fine Structure Processing up to 1 kHz on 4 apical channels with Intelligent parallel Stimulation for even higher temporal accuracy)
FSP (Fine Structure Processing typically up to 350 Hz on 2 apical channels)
HD-CIS (High Definition CIS)
Biphasic or Triphasic stimulation pulses
Supports 250 spectral bands
FineTuner Echo
Dimension: 104 x 38 x 11 mm
Weight: 32g (incl. Battery)
Remote control with bi-directional communication
Display
Troubleshooting
Battery status
WaterWear for BTE
Waterproof cover
Waterproof up to 4 metres depth
Rated IP68
Can be used in salt, fresh, and chlorinated water
Processor Features
Integrated 2.4 GHz module for wireless communication
Direct streaming for iOS and Android
Integrated telecoil
FM functionality via FM battery pack cover or RogerTM 21 from Phonak
AudioKey App
Remote control
Guardian functionality
Datalogging
Input selection
AudioLink
Dimensions: 68 x 38 x 17.5 mm
Weight: 35 g
2.4 GHz wireless device
Remote microphone
Hands-free phone calls
TV streaming
Music streaming
Direct audio input (DAI)
Zinc-Air Batteries
Up to 60 hours of use with a set of 2 disposable zinc-air 675 batteries
SONNET Rechargeable Battery
Dimension: 22 x 14 x 7 mm
Processor Weight with Battery: 9.1 g
Usage time: Up to 10 hours
Charging duration: ~4 hours
Lifetime: >500 charging/discharging cycles
SONNET Rechargeable Battery Micro
Dimension: 16 x 14 x 7 mm
Processor Weight with Battery: 8.1 g
Usage time: Up to 7 hours
Charging duration: ~3 hours
Lifetime: >500 charging/discharging cycles
SONNET Charging Unit
4 simultaneous charging slots
Power & charging indicator lights
USB powered: 5V DC, 500mA
USB power adapter: 100–240V AC (~50/60 Hz)
SONNET 2 Mini Battery Pack
Dimensions: 66 x 29 x 14 mm
Weight (without battery): <13g
Usage time:
Up to 37 hours with 1 AAA battery or
up to 16 hours with Rechargeable DaCapo Powerpack