Community
Connect with other MED-EL users online, and be part of our worldwide community.
Got a question about your audio processor? Or getting an implant and want to know what to expect? The MED-EL online community is here with information and advice to support you on your hearing journey. With dedicated forums, blogs and social media pages, it's easy to join the conversation and connect with MED-EL users around the world.

HearPeers
Run by hearing implant users for hearing implant users, the HearPeers forum is the place for all your burning questions. Whether you want to know how to wash your hair after surgery or how electrode arrays actually work, the friendly HearPeers community is always ready to help.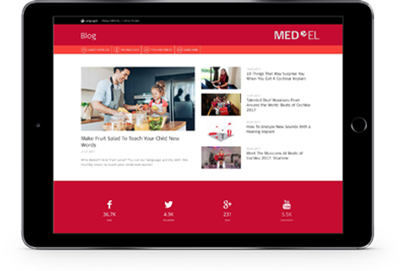 The MED-EL Blog
Find the latest MED-EL news over on the MED-EL Blog. From product reviews to user stories and handy rehab tips, the Blog is there to support and inspire you on your hearing journey.
MED-EL on Facebook
Follow us on Facebook for insightful videos, important announcements, or simply to chat with other users. Keep an eye out for our exclusive Facebook giveaways too!

MED-EL on Instagram
Head over to our Instagram channel for behind-the-scenes stories and inspiring pictures of hearing implant recipients from around the world. Use #medelmiracle for a chance to be featured!
MED-EL YouTube Channel
Check out user stories from around the world, and discover how your implant or hearing device helps you to hear. Don't miss our popular Hands-On videos either, showing you how to setup and use your audio processor.
User Stories
Learn about people's experiences with their MED-EL hearing solution. From parents to seniors, cochlear implants to bone conduction systems, our stories from around the world show what life is like with a hearing solution.
Hearing Journeys
Want to know what it's like to get a hearing implant? Our Hearing Journeys follow real users as they start their hearing implant journeys. From making a decision, through to surgery and rehabilitation, Hearing Journeys give you an inside look at this life-changing experience.
Discover More
Success!
Your contact has been send
Oops!
Something went wrong!
Please try again