SONNET Audio Processor
Meet SONNET—your ideal audio processor. It's sleek, lightweight, and water-resistant. It can be quickly connected to your phone. And it focuses in on the conversation to make sure you can hear your best, no matter where you are.
Hear Your Best
SONNET isn't just light and comfortable to wear, it's also smart. Find out how SONNET's advanced technology can help you hear your best.
Great sound quality
Water-resistant design
Wireless connectivity
Rechargeable batteries
Sound on the Go
You're adaptable. Your processor should be too. With Automatic Sound Management 2.0 (ASM 2.0), SONNET uses dual microphone technology to let you focus in on the conversation. Come wind, come crowds, you can focus on the sounds around you rather than constantly changing volume and settings.
Microphone Directionality focuses your hearing by using two microphones to sharpen the sounds in front of you. This gives you better listening, especially in noisy settings.
Wind Noise Reduction minimises continuous wind noise, making it easier to hear in outdoor settings. The wind noise reduction can be adjusted for your specific needs.
Automatic Volume Control continuously monitors your environment and seamlessly adjusts volume levels to ensure every sound is heard clearly and comfortably.
Simple Streaming
Use the phone you like, and connect it to the audio processor you love. SONNET makes it easy to listen to your favourite music, and enjoy phone calls with your loved ones in high-quality, true stereo. Just slide the AudioStream onto over your audio processor to enjoy direct wireless streaming from your smartphone or tablet.
Public Venues
Hear your best wherever you go. You can easily connect SONNET to hearing loops at cinemas, theatres, places of worship, and many other public venues.
At Work or School
AudioLink's remote microphone feature is ideal for hearing someone from a few metres away, whether that's a teacher, a co-worker, or just your family at dinner!
No Interruptions
We don't like interruptions any more than you do. With that in mind, we've designed a processor with up to 60 hours of battery life, giving you days of uninterrupted listening without any compromise in sound quality.
Alternatively, use SONNET's specially-designed Rechargeable Batteries and power your processor the easy way.
Disposable Batteries

Rechargeable Batteries

Mini Battery Pack
Disposable Batteries
Use two disposable zinc-air batteries with your SONNET for maximum battery life.
Up to 60 hours of power from two size 675 zinc-air batteries.
Up to 10 hours of waterproof hearing with WaterWear and two silver-oxide batteries.
Rechargeable Batteries
SONNET's handy rechargeable batteries can be worn during the day, and then charged overnight. They come in three different sizes: Max, Standard, and Micro.
Up to 17 hours of power with the Rechargeable Battery Max.
Up to 10 hours of power with the Rechargeable Battery Standard.
Up to 7 hours of power with the Rechargeable Battery Micro.
Mini Battery Pack
Power your SONNET for up to 37 hours on a single AAA battery. The Mini Battery Pack is worn off-the-ear, and can be easily attached to clothing or a belt.
Up to 37 hours of use with a AAA battery
Up to 16 hours of use with a rechargeable DaCapo PowerPack
Dive Right In
The splash from a pool. The sweat on your brow. The sand on a beach. Life can get messy, and you shouldn't have to choose between sound and the activities you love. And with the water-resistant, dust-resistant SONNET, you don't have to.
Whether you hear the spring of the diving board or the siren song of the surf, consider SONNET your swimming sidekick. Go ahead—get in the water. The sleek, reusable WaterWear cover makes SONNET completely waterproof in any kind of water.
Discover More
For Kids
With its tamperproof design and simple link-check function, SONNET is built for even the most adventurous kids. Its flexible wearing options make SONNET comfortable to wear for even the littlest ears.
Tamperproof Design

Link-Check Function

BabyWear

ActiveWear

Fixation Options

Micro Rechargeable Battery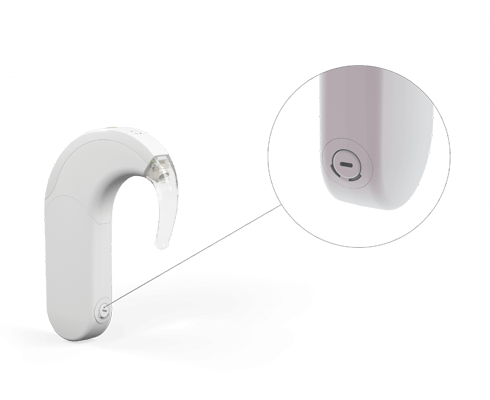 Tamperproof Design
Keep SONNET safe from little fingers. With its lockable, tamperproof design, SONNET stays in one piece, all day long. The lockable covers for SONNET's DL-Coil also keep the cable securely connected to the coil.
Link-Check Function
It only takes a glance to see if your child's SONNET is working correctly. The link-check function of SONNET's DL-Coil quickly shows if the audio processor and coil are properly connected, to make sure your child hears their best at all times.
BabyWear
For the smallest SONNET users, BabyWear allows the entire audio processor to be attached to your baby's clothing, leaving nothing on their ears. This off-the-ear wearing option ensures that your baby can enjoy the sounds around them in comfort.
ActiveWear
With ActiveWear, only the lightweight control unit is worn on the ear, while the battery pack is attached to clothing. This makes SONNET lighter and more secure to wear for younger children, whatever adventures they get up to.
Fixation Options
SONNET is available with a range of fixation accessories, to help keep your child's audio processor snug and secure. From cute clips to bright headbands, there's an option your child will love to wear.
Micro Rechargeable Battery
For the lightest audio processor available, choose to power your child's SONNET with the Micro Rechargeable Battery. These easy-to-use batteries make SONNET smaller and extremely light to wear, giving your child that little bit of extra comfort.
Mix It Up
Make your SONNET suit your style. Choose from hundreds of colour combinations for the audio processor, coil, battery pack covers, microphone covers, and even the cable. Just click below to find your ideal look with our interactive Colour Configurator.
And with the stylish Design Covers for SONNET's DL-Coil, you can change your look in a snap.
Discover More
Base and Coil
Microphone & Battery Covers
Black

White

Nordic Grey

Beige

Anthracite

Ebony

Sienna Brown

Cool Grey

Creme

Baby Blue

Baby Pink

Orange

Green

Bordeaux Red

Pacific Blue
Cables
Additional Coil Covers
A New Look
With customisable adhesive skins from DesignSkins, you can customise your SONNET to suit your style. Choose from thousands of colourful designs, or upload your own for a truly unique look.
Discover More
SYNCHRONY 2 Cochlear Implant
Great sound quality is only possible with a great implant. With SYNCHRONY 2 you can benefit from the latest cochlear implant technology and our MRI Guarantee.
But the biggest advantage of SYNCHRONY 2 is that it mimics natural hearing. The result? The closest to natural hearing of any cochlear implant system.
Discover More
Width: 37.4mm
Height: 67.6mm with Battery Pack Cover Max
Height: 56.7mm with Battery Pack Cover
Height: 51.4mm with Battery Pack Cover Micro
Thickness: 5.9mm
Thickness: 9.3mm
SONNET Audio Processor
(Me1310)
Weight and Dimensions
6.1 g (with ActiveWear)
10.6 g (Me1310 with two 675 zinc-air batteries)
DL-Coil: 4.6 g, 32.8 mm x 5.8 mm
DL-Coil: 5 magnets available in 9 strengths
Durable coil cables available in 3 lengths:

6.5 cm (2.6 in)
9 cm (3.5 in)
28 cm (11.0 in)
Material
Processor & Coil: Mixture of polycarbonate and
acrylonitrile-butadiene-styrol polymer
Earhook: Polyamide (PA)
Cable: PVC and TPE Evoprene
Biocompatible according to ISO 10993-1
Latex-free*
Compatibility
Compatible with all MED-EL multichannel cochlear implants
MAX Programming Interface
MAESTRO System Software 6.0 or later
Compatible with hearing aids of all brands and types
Product Features
Frequency Range 70–8500 Hz
Splash-proof design with IP54 rating
Dual microphones
Datalogging
Tamperproof design

Secured earhook
Locking battery pack
Choking hazard avoidance
Additional fixation options
Locking coil cable (locked to coil and control unit)

Link monitoring function with LED indicator
Four program positions
Continuous volume and sensitivity control with FineTuner or AudioKey 2 app
Sound Processing Features
Front-End Processing
Automatic Sound Management 2.0 (ASM 2.0)
Microphone directionality
Wind Noise Reduction
Automatic Volume Control with Dual-Loop AGC
Input Dynamic Range (IDR) of 78 dB
Sound Coding Strategies
FS4 (Fine Structure Processing up to 1 kHz on 4 apical channels)
FS4-p (Fine Structure Processing up to 1 kHz on 4 apical channels with Intelligent parallel Stimulation for even higher temporal accuracy)
FSP (Fine Structure Processing typically up to 350 Hz on 2 apical channels)
HD-CIS (High Definition CIS)
Biphasic or Triphasic stimulation pulses
Supports 250 spectral bands
Connectivity
Technology
2.4 GHz wireless communication
Direct wireless audio streaming via Bluetooth Low Energy with AudioStream
True stereo sound quality
Support for bilateral usage
Integrated telecoil
Accessories
AudioLink
Dimensions: 68 x 38 x 17.5 mm
Weight: 35 g
Remote microphone
Hands-free phone calls
TV streaming
Music streaming
Direct audio input (DAI)
AudioKey 2 App
Remote control functionality
Guardian roles
Find My Processor
Send feedback
FineTuner Echo
Dimensions: 104 x 38 x 11 mm
Weight: 32 g (including battery)
Compact remote control with bi-directional communication
ePaper Display
Test audio processor microphones
SONNET battery status
WaterWear Cover
Waterproof up to 4 m depth
Can be used in salt, fresh and chlorinated water
Battery Options
Zinc-Air Batteries
Up to 60 hours of use with a set of 2 disposable zinc-air 675 batteries
Rechargeable Battery Max
Dimensions: 32 x 14 x 7 mm
Processor weight with battery: 10.4 g
Usage time: Up to 17 hours
Charging duration: ~6 hours
Charging/discharging: >1800 cycles (80% capacity)**
Rechargeable Battery Standard
Dimensions: 22 x 14 x 7 mm
Processor weight with battery: 9.1 g
Usage time: Up to 10 hours
Charging duration: ~4 hours
Charging/discharging: >5000 cycles (80% capacity)**
Rechargeable Battery Micro
Dimensions: 16 x 14 x 7 mm
Processor weight with battery: 8.1 g
Usage time: Up to 7 hours
Charging duration: ~3 hours
Charging/discharging: >5000 cycles (80% capacity)**
Charging Unit
4 simultaneous charging slots
Power & charging indicator lights
USB powered: 5V DC, 500mA
USB power adapter: 100–240V AC (~50/60 Hz)
---
The Bluetooth® word mark and logos are registered trademarks owned by the Bluetooth SIG, Inc. and any use of such marks by MED-EL is under license.
Please find detailed information and specific conditions for use for each product in the respective instructions for use.
All functions and features may not be available in all markets. Enabling features on the hardware may be subject to technical considerations.
* Whereby "free" means "not made with latex" according to current FDA guidance: "Recommendations for Labeling Medical Products to Inform Users that the Product or Product Container is not Made with Natural Rubber Latex", 2014.
** Charging Cycles dependent on individual usage.