SAMBA
Audio Processor
These support guides will help you handle and care for the SAMBA Processor.
Attaching the Hair Clip
You can use one of the attachment clips to prevent an accidental loss of SAMBA.
Remove the battery and cover.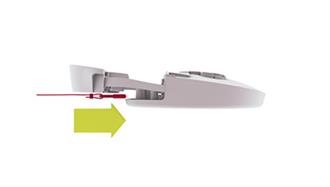 ---
Pass the attachment eyelet through the small notch under the battery compartment. Press the eyelet down with a small pointed object.
---
Place the cover on the SAMBA and insert the battery. Close the battery compartment.
Refer to your user manual for more information.