SAMBA
Audio Processor
These support guides will help you handle and care for the SAMBA Processor.
Basic Care and Maintenance
Follow these basic yet important care instructions to help improve the functioning of your SAMBA audio processor.
General Cleaning
MED-EL recommends cleaning SAMBA weekly for hygienic reasons. Only clean the outside of the device. Do not clean SAMBA in or under water. Use a damp cloth to gently clean your audio processor. If necessary, use non-abrasive household soap together with a damp cloth. Do not use aggressive cleaning agents.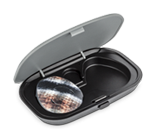 Storage
When not in use, SAMBA should be kept in the case provided. You can remove the battery for storage or simply open the battery door to extend battery life.
Drying
If you live in a humid climate or perspire heavily, the audio processor should be placed in a drying container instead of in the SAMBA case when it is not worn.
Don't put batteries into the drying kit.
Moisture
Prevent water from running into SAMBA via the microphone openings or the battery compartment.
---
Sunlight
Please store your audio processor in a dry place and protect it from direct sunlight, for example in a vehicle.
Refer to your user manual for more information.