RONDO 2 Audio Processor
RONDO 2 is the easiest-to-use audio processor ever made. With its elegant, discreet design and revolutionary wireless charging, RONDO 2 gives you hassle-free hearing all day long.
RONDO 2 is designed to be so easy to use, you'll forget you're wearing it. Along with its innovative wireless charging, RONDO 2 has just one simple on/off button and automatically controls volume levels for you. It's easy to connect to your phone or TV using intelligent wireless accessories, and the compact design means it can be hidden discreetly under your hair.
Easy to use
Easy to charge
Easy to wear
Wireless Charging
RONDO 2's innovative wireless charging makes it easy to power up your processor overnight—just like your phone. But unlike your phone there are no cables: simply place RONDO 2 on the charge pad and it will charge automatically. You'll never have to change a battery ever again.
Go All Day
Providing up to 18 hours of battery life, RONDO 2 gives you all-day hearing. And it charges fully in just 4 hours, perfect for overnight. With no batteries to change and uninterrupted hearing from morning till night, you can forget about your cochlear implant and get on with your day.
Keep it Discreet
RONDO 2 is a small, compact device that sits on the head, just back from your ear. The discreet audio processor has a streamlined design and can be easily hidden under hair. For those who regularly wear glasses, RONDO 2 is a comfortable hearing solution. With nothing directly on the ear, you can wear your glasses as normal and experience optimal hearing at the same time.
The Natural Look
Make your audio processor invisible. In addition to the five neutral colours, there are also hair-patterned Design Covers available to help RONDO 2 blend in with any hairstyle.
The easy-to-use covers match a variety of hair tones, from blonde to jet black, and have a subtle gradient for a more natural look.
Find the right cover for you.
Colours
Hair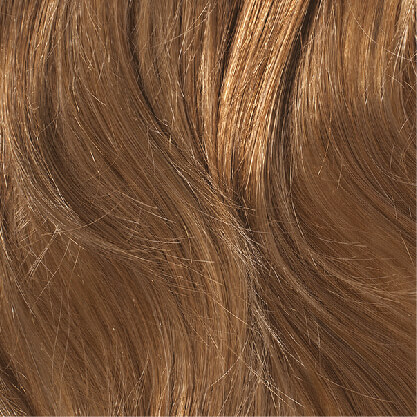 Black glossy
Be Bold
If you'd rather make a statement with your RONDO 2, there are plenty of colourful Design Covers which really show off your audio processor.
From fun, art-inspired designs to classic patterns and wild animal prints, you can simply snap your favorite cover onto RONDO 2 and change your look in an instant.
Stay Connected
Sometimes it can be hard to hear your best. Noisy public places can be difficult, as can talking on the phone or hearing the TV clearly.
RONDO 2 connects seamlessly with Bluetooth neckloops and hearing induction loops to bring the sound straight to your ears, even across a busy room. This gives you optimal hearing wherever you are, so you'll never miss out on those important moments.
Effortless Listening
You shouldn't have to spend all day changing your audio processor's settings. RONDO 2 automatically adapts to help you hear soft sounds clearly and loud sounds comfortably everywhere you go—without the need to use switches or press buttons.
This makes hearing effortless and gives you a much more natural listening experience.
Make a Splash
Whether diving into the ocean or simply relaxing by the pool, keep your RONDO 2 safe and dry with WaterWear. These reusable waterproof covers are easy to attach and can be used in any type of water, including salty seawater and chlorinated swimming pools. WaterWear gives you the freedom to do the water activities you love.
And of course, RONDO 2's water-resistant design means it is protected from everyday splashes and moisture. So if you get caught unexpectedly in the rain, you can rest assured that RONDO 2 will continue to give you optimal hearing.
SYNCHRONY Cochlear Implant
Great sound quality is only possible with a great implant. With SYNCHRONY you can benefit from the latest cochlear implant technology, plus the highest MRI safety available and our MRI Guarantee.
But the biggest advantage of SYNCHRONY lies in its super soft electrodes. Find out about MED-EL's electrodes, and how they help you make the most of your hearing.
Discover More
Get in Touch
Would you like more information on our hearing loss solutions? Just fill out our simple contact form and we'll get back to you.
Width: 35.8mm
Length: 46.8mm
Height: 12.1mm
RONDO 2
Audio Processor (Me1150)
Product Features
All-in-one design
Splash-proof design with IP54 rating
Easy to change covers in 34 designs and colours
Automatic Sound Management
Omni Microphone Directionality
Dual-Loop AGC
Input Dynamic Range of 78 dB (28 dB–106 dB SPL)
Supports 250 spectral bands
Link-check function with LED indicator
On/Off Button on the Processor
FineTuner remote control
Continuous volume and sensitivity control
Four program positions
Rechargeable Battery
Integrated Lithium-ion battery
Wireless recharging through compatible charging pad*
Up to 18 hours of use per charge
Battery life expectancy is typically more than 5 years
Mini Battery Pack provides back-up power option with AAA battery
Sound Coding Strategies
Available strategies via MAESTRO
System Software 7.0:
FS4 (Fine Structure Processing up to 1 kHz on 4 apical channels)
FS4-p (Fine Structure Processing up to 1 kHz on 4 apical channels with Intelligent Parallel Stimulation for even higher temporal accuracy)
FSP (Fine Structure Processing typically up to 350 Hz on 2 apical channels)
HD-CIS (High Definition CIS)
Colour Options
Easy-to-change covers available in colours, designs, and hair patterns
Glossy & Matte Covers

Design Covers

Hair Pattern Covers

Magnet Strength
Available in 3 strengths for use with SYNCHRONY Implants and 4 strengths for use with other MED-EL CIs
Weight and Dimensions
46.8 mm x 35.8 mm x 12.1 mm
14.9 g including magnet and cover
*Charging pad not manufactured by MED-EL and designs may vary.