SONNET EAS
The SONNET EAS is the 3rd generation Electric Acoustic Stimulation (EAS) Audio Processor from MED-EL, the pioneer of combined Electric Acoustic Stimulation. SONNET EAS combines the SONNET audio processor with an acoustic unit and customised ear mould to provide dedicated acoustic stimulation across the low frequencies and electric stimulation in the high frequencies. With 6-channel 48dB acoustic amplification across the low frequencies, SONNET EAS is the ideal solution for candidates with partial deafness.
Effortless Listening
Life can be a handful sometimes. That's why SONNET EAS is designed for hands-free control wherever you go.
Automatic Sound Management 2.0 (ASM 2.0) actively adapts to changing listening environments, so you don't have to worry about adjusting settings or changing programs. Focus on what you're listening to, not on which program you'll need to hear it.
Microphone Directionality focuses your hearing by using two microphones to sharpen the sounds in front of you for better listening, especially in noisy settings.

Wind Noise Reduction minimises continuous wind noise, making it easier to hear in outdoor settings. The levels of wind noise reduction can be adjusted for your specific needs.
Automatic Volume Control continuously monitors your environment and seamlessly adjusts volume levels to ensure every sound is heard clearly and comfortably.

Water-Resistant
Make a Splash
Relax by the pool, run through the sprinklers, or jump in the puddles. With the water-resistant SONNET EAS, you don't have to worry about an unexpected splash keeping you from the activities you love.
Mix it Up
Blend in or stand out. With hundreds of different colour combinations to choose from, you can mix and match processor parts for a SONNET EAS that suits your style. How will your SONNET EAS look?
SONNET EAS comes in one of these six base colours. For individual colour combinations please contact your local MED-EL representative.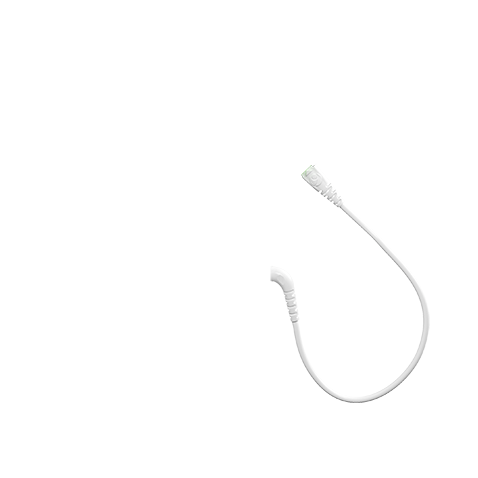 SONNET Control Unit
Battery Pack Cover
Microphone Cover

Coil

Cable
Never Miss a Moment
SONNET EAS delivers up to 60-hour battery life without a trade-off in performance. Weighing 11.3 grams, the lightweight SONNET EAS uses two disposable 675 zinc-air batteries. The locking battery case of the SONNET EAS is tamper-proof, making it the ideal option for young children.

60-Hour Battery Life

Performance Without Compromise

Sync With All Your Devices
With built-in wireless connectivity and flexible direct audio input options, SONNET EAS can connect to nearly any external audio source. The integrated telecoil lets you connect wirelessly to a wide variety of audio-streaming systems.
The included FM battery cover provides a connection to standard 3-pin FM devices. A 3.5 mm accessory cable enables direct audio input from any device with a headphone jack.
Ready for upgrades, SONNET EAS features high-fidelity 2.4 GHz wireless connectivity to ensure you'll be able to get connected to the latest audio-streaming technology in the future.
From tablets to turntables, SONNET EAS keeps you connected.
FineTuner
Remote Control
SONNET EAS features Automatic Sound Management 2.0 to minimise the need to adjust settings in most environments. For additional control, SONNET EAS features the convenient FineTuner remote.
The FineTuner Remote Control allows you to easily adjust settings and select programs with the press of a button. The compact FineTuner fits easily into your pocket and the large buttons make it easy to use. A single FineTuner can be used to control both processors for bilateral recipients, making it especially convenient.
Technical Data
Compatible Hardware/Software
SYNCHRONY, CONCERTO, SONATA, PULSAR, C40+, C40 implants
FineTuner Remote Control Unit
Sound Coding Strategies
SYNCHRONY Cochlear Implant System supports the latest generation of FineHearing Technology as well as other advanced coding strategies.
Future Compatibility
Designed for compatibility with upcoming sound coding strategies.
Connectivity
Integrated telecoil for wireless access to Assistive
Listening Devices (ALDs)
Direct-plug in (standardized Euro-Audio 3-pin connection)
Wireless ready for future 2.4GHz applications
Product Features
Splash-proof design according to ingress protection rating IP54
Dual microphones
Automatic Sound Management 2.0 (ASM 2.0) including Microphone Directionality, Wind Noise Reduction, and Automatic Gain Control
Datalogging
Tamper-proof design with integrated child safety features
Durable coil cables available in: 8.5 cm (3.3 in.), 11 cm (4.3 in.), and 28 cm (11 in.)
Acoustic stimulation up to 2 KHz
Fully digital hearing aid signal processing
6-channel acoustic fitting
Colours
6 base and coil colours
15 changeable colour options for microphone and battery pack cover
4 cable colour options
Weight and Dimensions
SONNET EAS: 11.3 g (including batteries)
Length: 37.4 mm
Height: 56.7 mm
Width: 5.9–9.3 mm
Battery Life
Up to 60 hours of use with a set of 2 zinc-air batteries (type 675)
Magnet Strength
Available with soft, standard, strong, or super strong magnet.